[:en]If you can't decide what to eat in Thailand, you are in the right place!
As well as its beautiful beaches and iconic scenes, Thailand is world-famous with its traditional cuisine. A tasty fusion of spice (notably different types of curries), coconut milk, and a variety of vegetables, Thai cuisine is worth exploring.
What to eat in Thailand?
It is no surprise that Thai restaurants are popular all around the world. But the best thing to do is to try Thai food in Thailand. Here are the 18 mouthwatering dishes from Thai cuisine that will help you find out what to eat in Thailand.
If you are interested in new tastes, check our previous article about what to eat in Delhi.
---
Tom Yum
We will start our list of what to eat in Thailand with tom yum. This famous bowl of steam is aromatic and spicy. It is made of kaffir lime leaves, lemongrass, galangal ginger, chilies, lime juice, and fish sauce. The most common tom yum variation is tom yum goong with prawns and usually mushrooms.
---
Moo Ping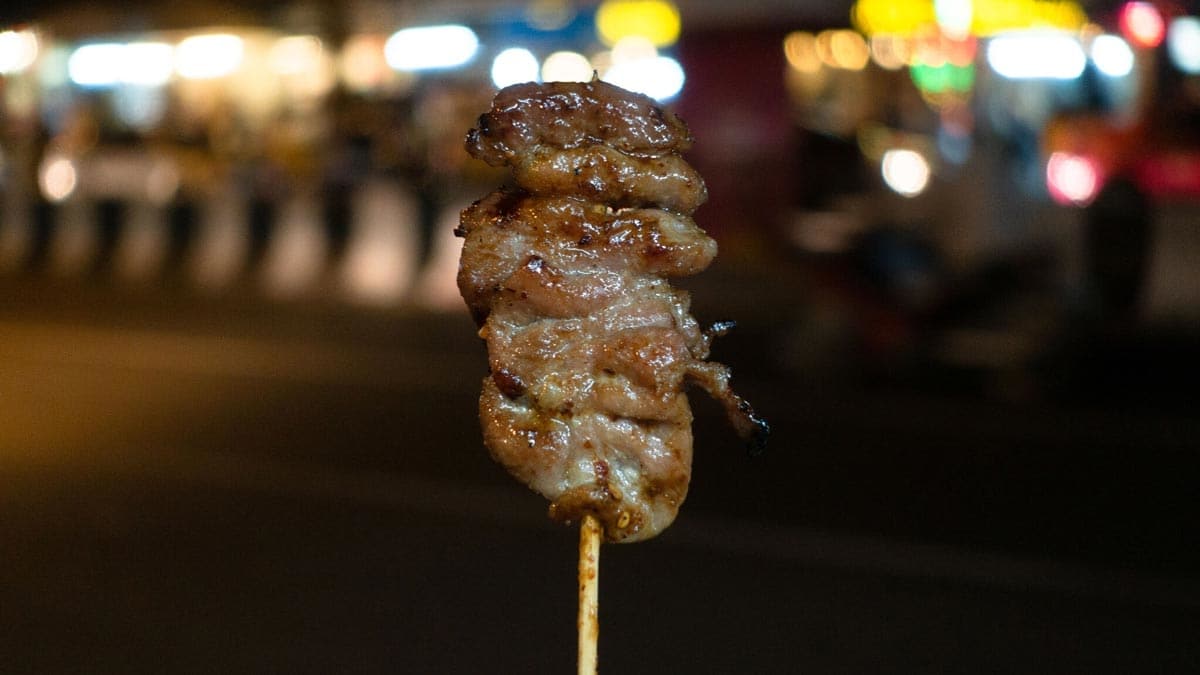 This delicious street food consists of pork skewers marinated in garlic, coriander root, white pepper, sugar, and dark soy sauce. Smokey, sticky, and served with rice. You can find it freshly grilled on the street.
---
Pad Thai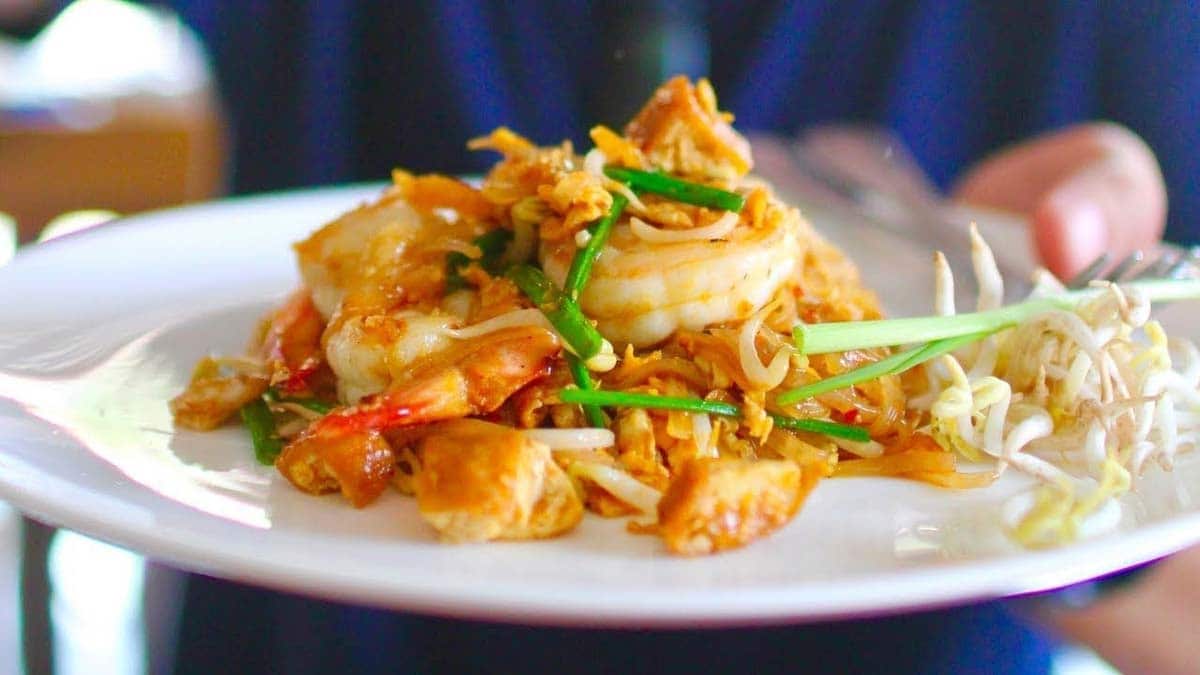 Egg noodles are quickly stir-fried with tamarind sauce, fish sauce, chili powder, eggs, and beansprouts and served with crunchy peanuts and freshly squeezed lime juice. One of the most popular dishes of Thailand among strangers, Pad Thai, can be found almost on every street corner. You should try this favorite dish of the tourists.
---
Khao Soi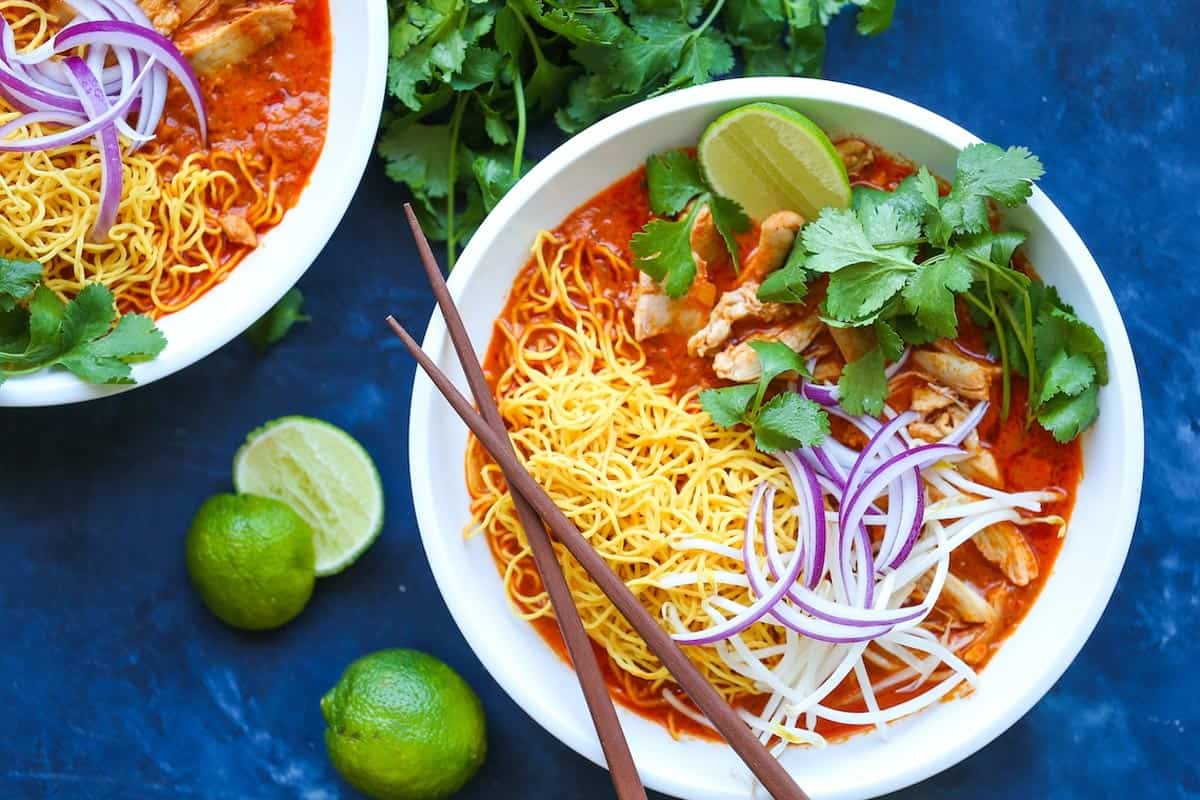 Rich egg noodles and topped with a spiced coconut broth, more crispy noodles, shallots, lime wedges, and roasted chili sauce. Its flavors mainly come from Myanmar and India. People usually prefer it for breakfast and lunch.
---
Khao Man Gai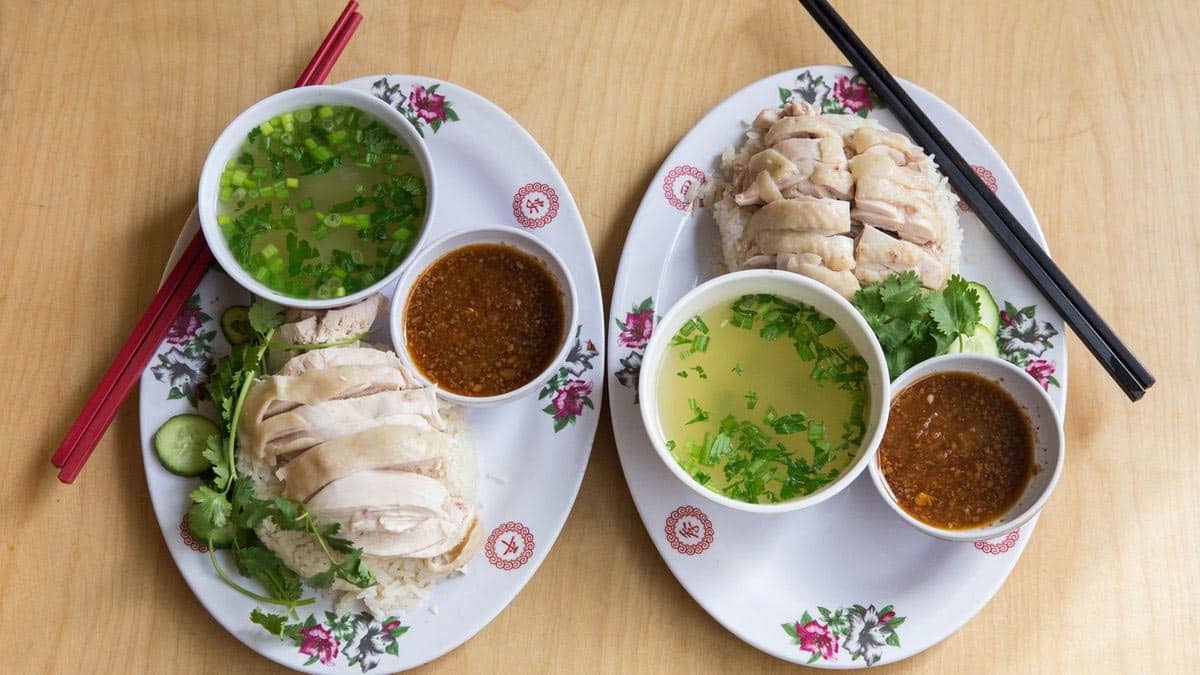 Let us introduce you to another option to help you decide what to eat in Thailand. This chicken dish is made by boiling chicken. With steamy rice cooked in the chicken's fat, it is served with a spicy sauce made from ginger, garlic, fish sauce, and soy sauce. Making khao man gai is more complicated than it seems. Its taste is worth it.
---
Gaeng Daeng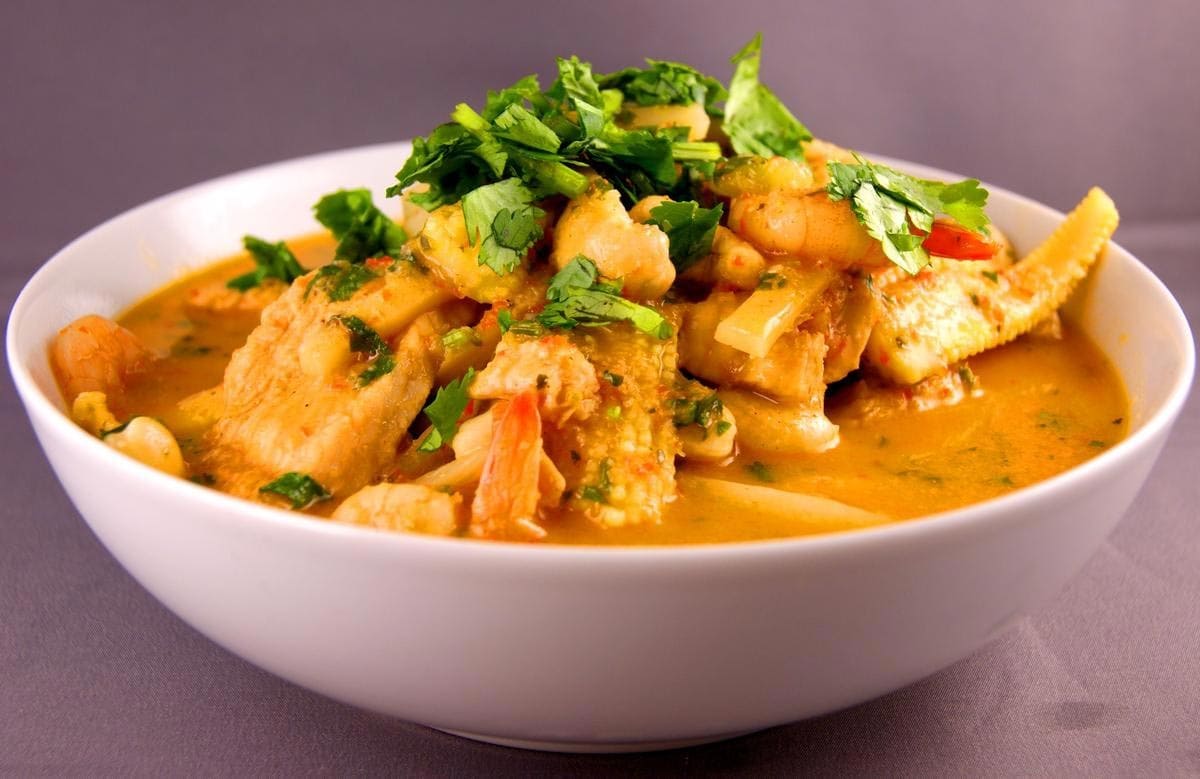 As a fragrant spice, gaeng daeng (or red curry) is quite preferred in Thai cuisine. An aromatic paste made from red chilies, garlic, lemongrass, kaffir lime leaves, shallots, and galangal is cooked with coconut milk and meat or rice. Don't be surprised if it comes with steamy jasmine rice, as it is typical.
---
Krapow Moo
It is a stir-fry made from minced pork, garlic, green beans, chilies, oyster sauce, fish sauce, and Thai holy basil. It is best served with heaps of steamy jasmine rice, a Thai-style crispy fried egg, and cooled sliced cucumber. Along with its chicken-based variation, krapow gai, it is a must-try.
---
Laab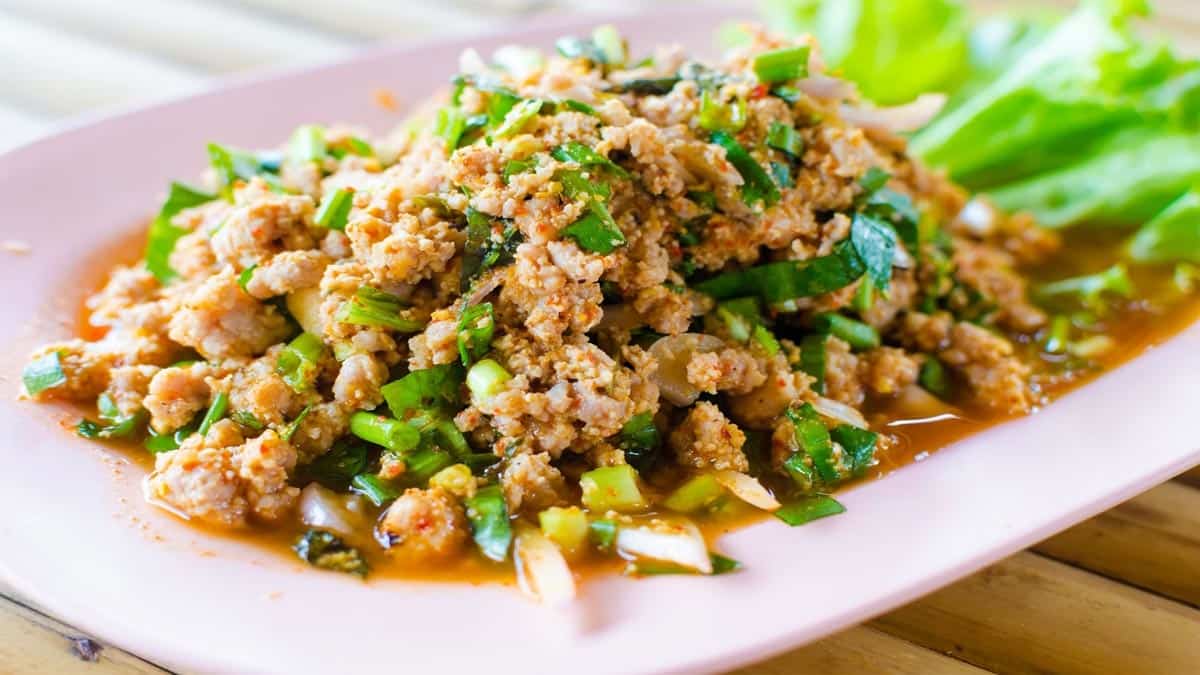 Laab is a northeastern-style spicy salad with meat or mushroom and mint. It is originally from the northeastern province of Isan. Laab has a variety of styles, including chicken, pork, and mushroom. It is a great option, especially for those who can handle a kick of spice.
---
Kai Med Ma Muang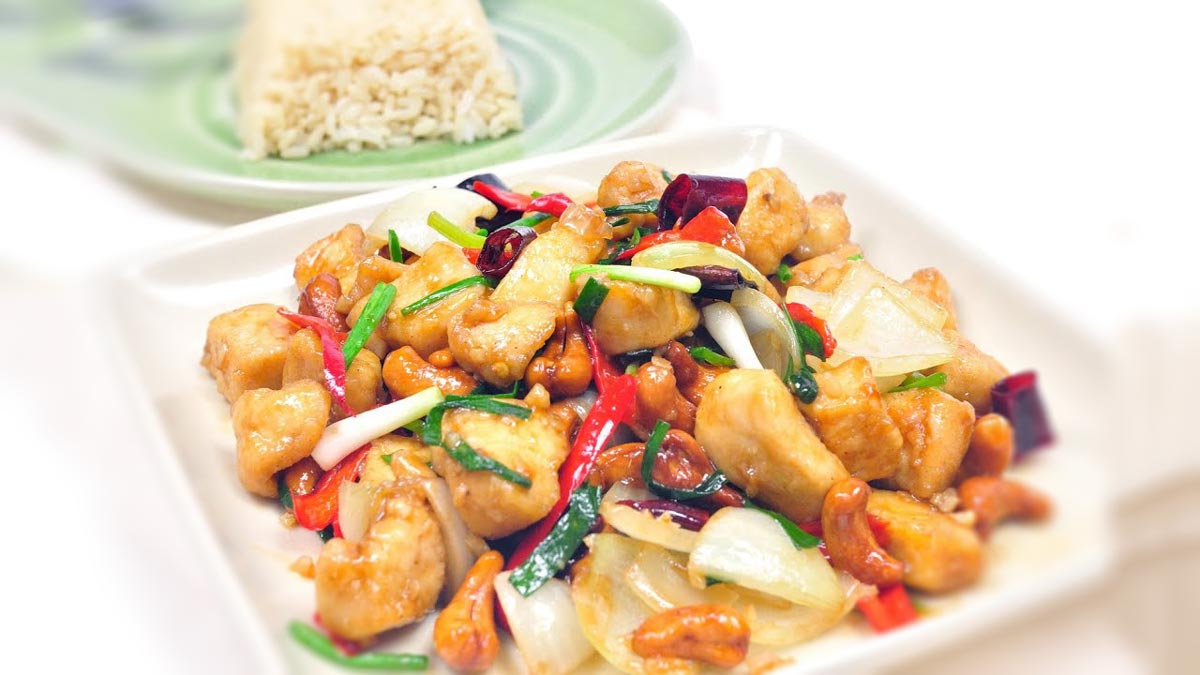 Cashew nuts are commonly used in Thai cuisine. This sweet and flavourful dish also consists of stir-fried chicken with cashew nuts, soy sauce, honey, onions, chilies, pepper, mushrooms, basically whatever vegetables. Both locals and foreigners love this taste.
---
Som Tum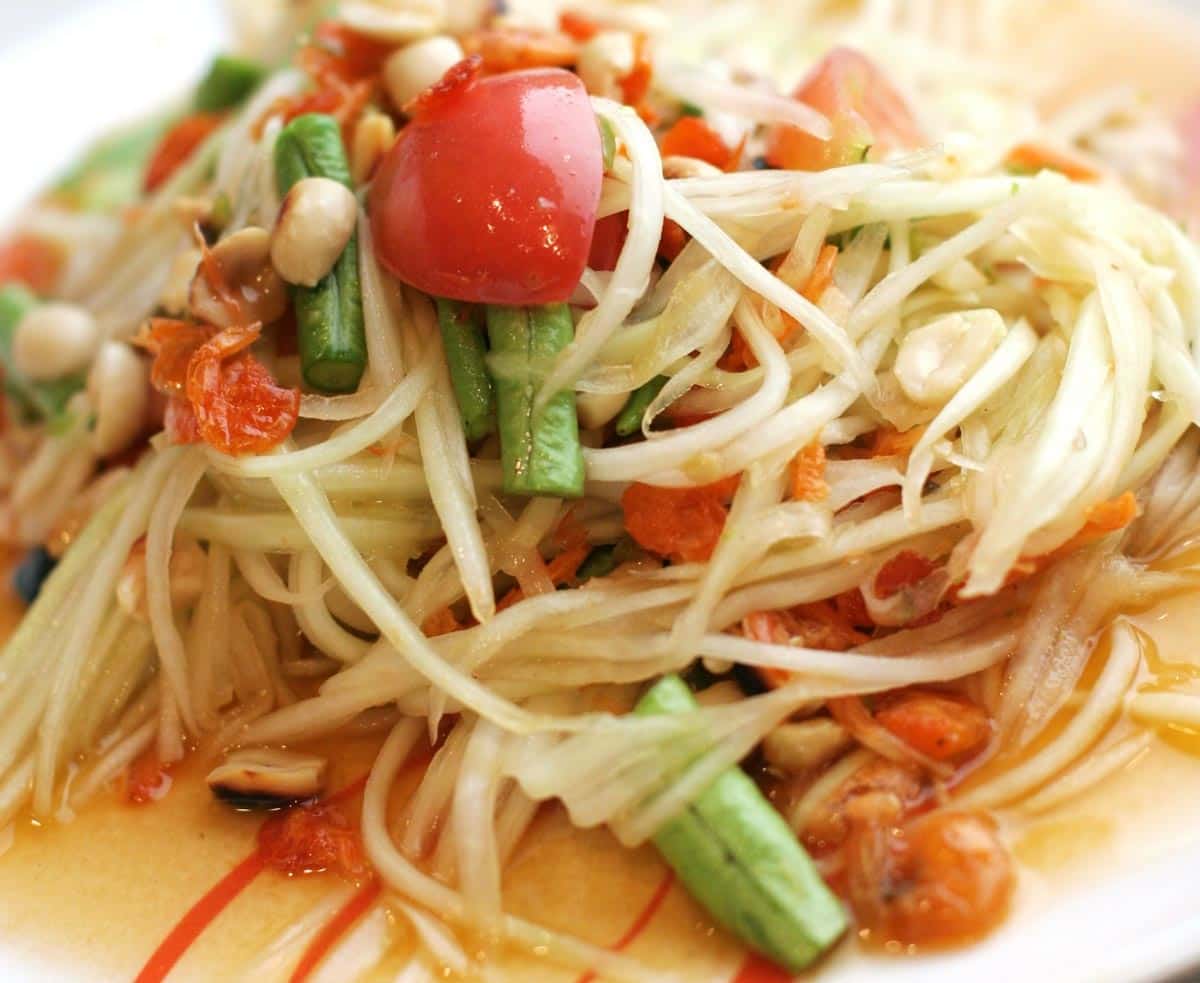 This famous dish originates from Isan and Laos. This version, som tum Thai is a sweet, spicy salad made from grated papaya, green beans, tomatoes, garlic, lime juice, chilies, peanuts, and dried shrimps. Other variations include the use of tamarind, crab, or noodles.
---
Gai Tord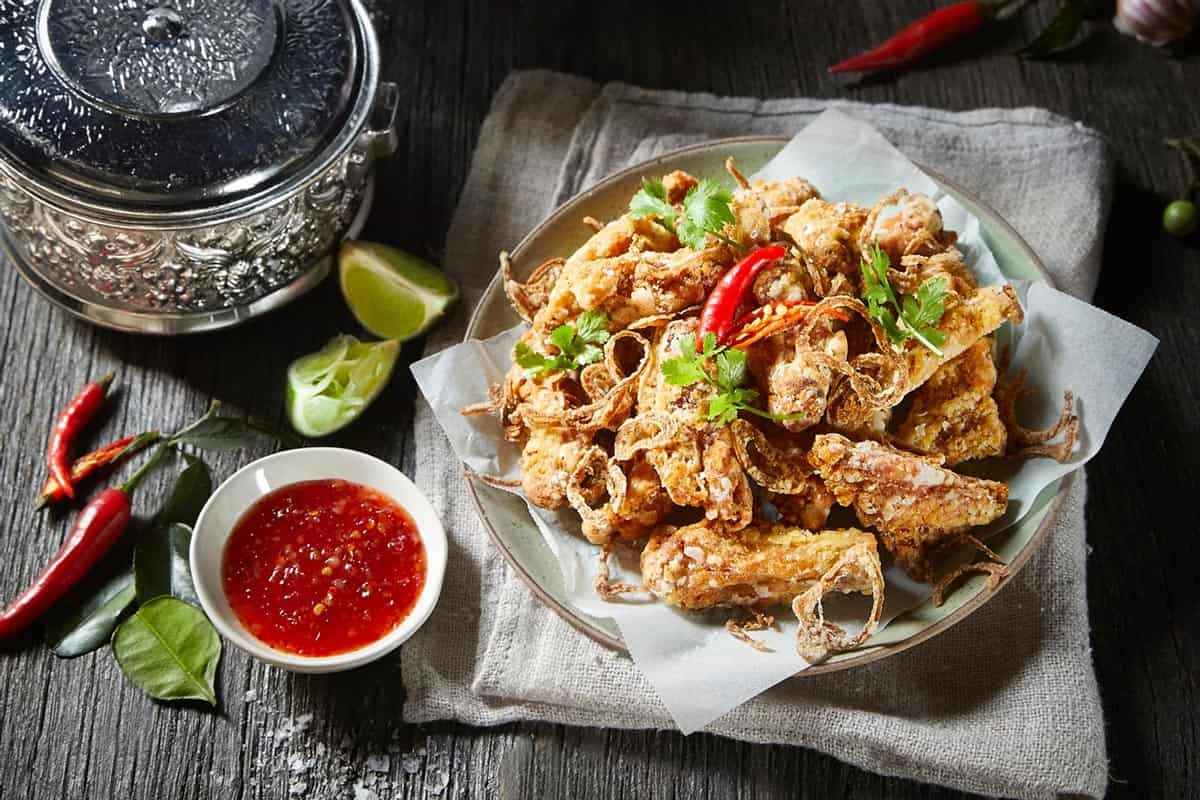 Chicken thighs and legs are coated in a lightly spiced batter and fried until crispy and golden. They serve it with sticky rice and a spicy cucumber salad. This crispy fried chicken is far tastier than its fast-food chain counterparts. One of the best you can try.
---
Yam Pla Dook Foo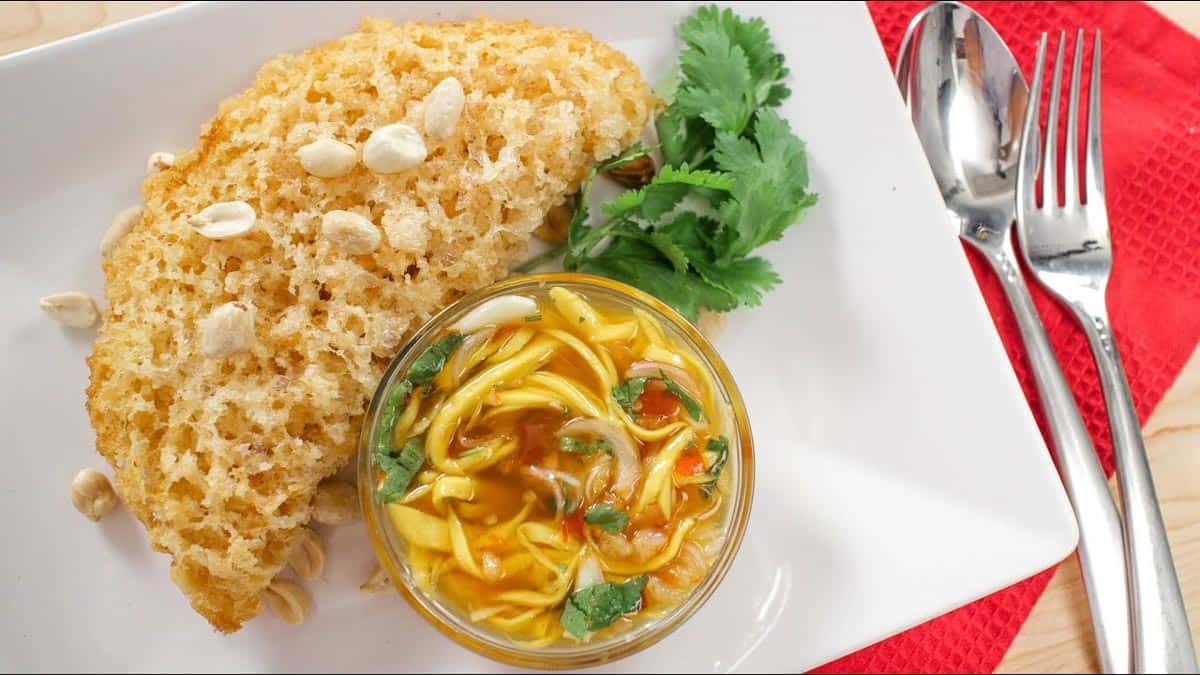 It is "fried catfish with green mango salad." Catfish is fried in teeny tiny pieces creating a fluffy and yummy fish salad. The trick of this dish is the pairing of the crispy fish with sweet, sour, and spicy green mango salad. Both fluffy and crispy, yam pla dook foo is generally served as an appetizer, or as a beer snack.
---
Gaeng Keow Wan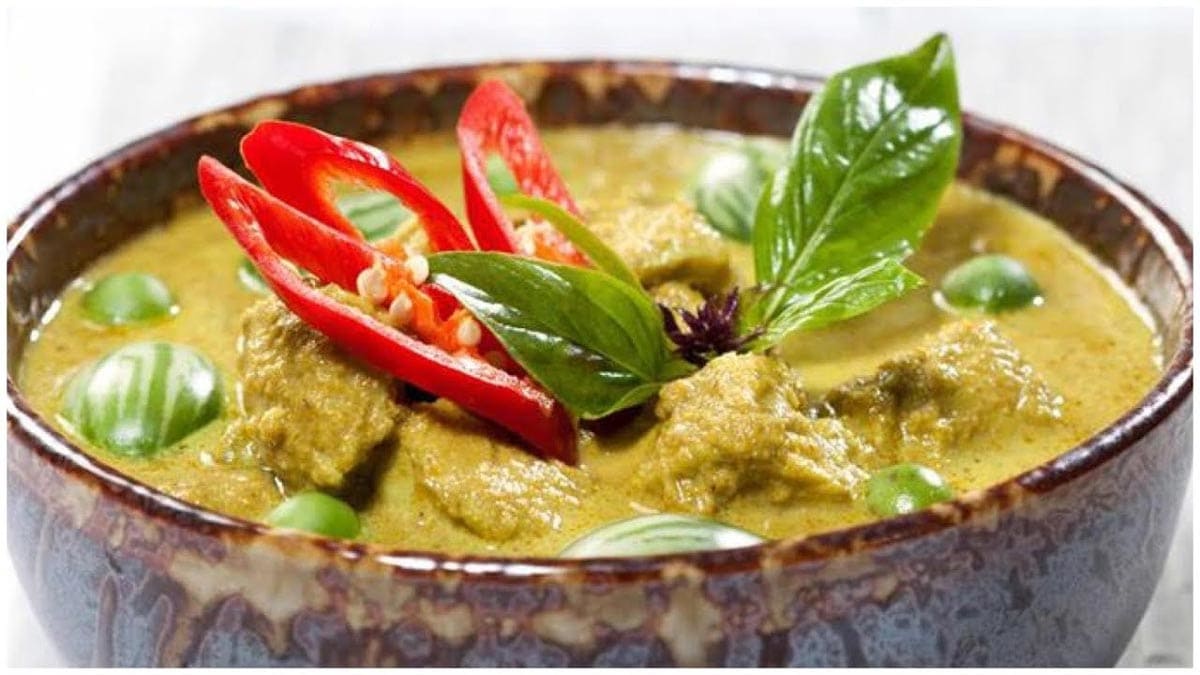 Gaeng keow wan (green curry) comes from central Thailand. Its ingredients are fresh green chilies, ginger, eggplant, and, of course, coconut milk. Green curry is the spiciest with a perfect balance of sweet coming from the coconut milk. It should be eaten with lots of steamed rice to tone down the spice level.
---
Pad Phuk Tong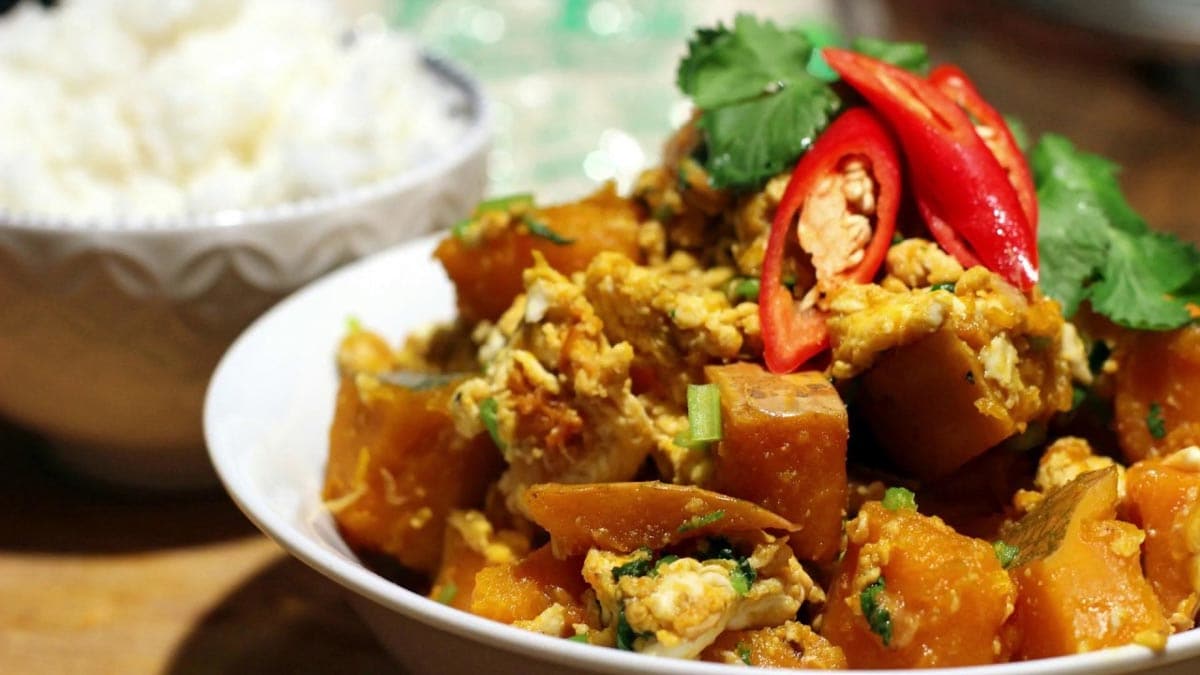 Meaning stir-fried pumpkin, pad phuk tong is one of the best vegetarian options in Thailand. Even though it is more difficult to find than pad thai, it is quite promising. you can enjoy it with a plate of brown rice.
---
Kai Jeow Moo Sap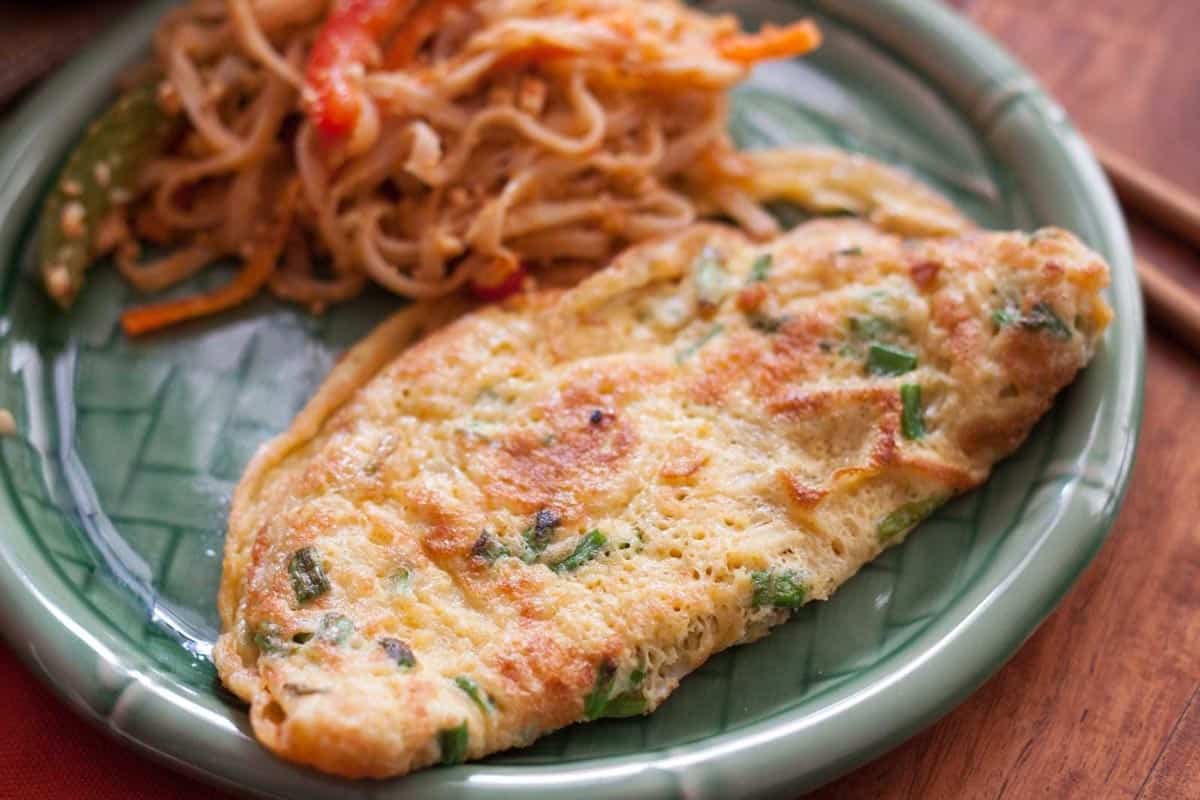 Kai jeow moo sap is a crispy Thai-style omelet, including ground pork, holy basil, and a dash or two of soy sauce. They typically serve it with a sweet chili sauce. An authentic, delicious suggestion, especially for a satisfying breakfast.
---
Guay Teow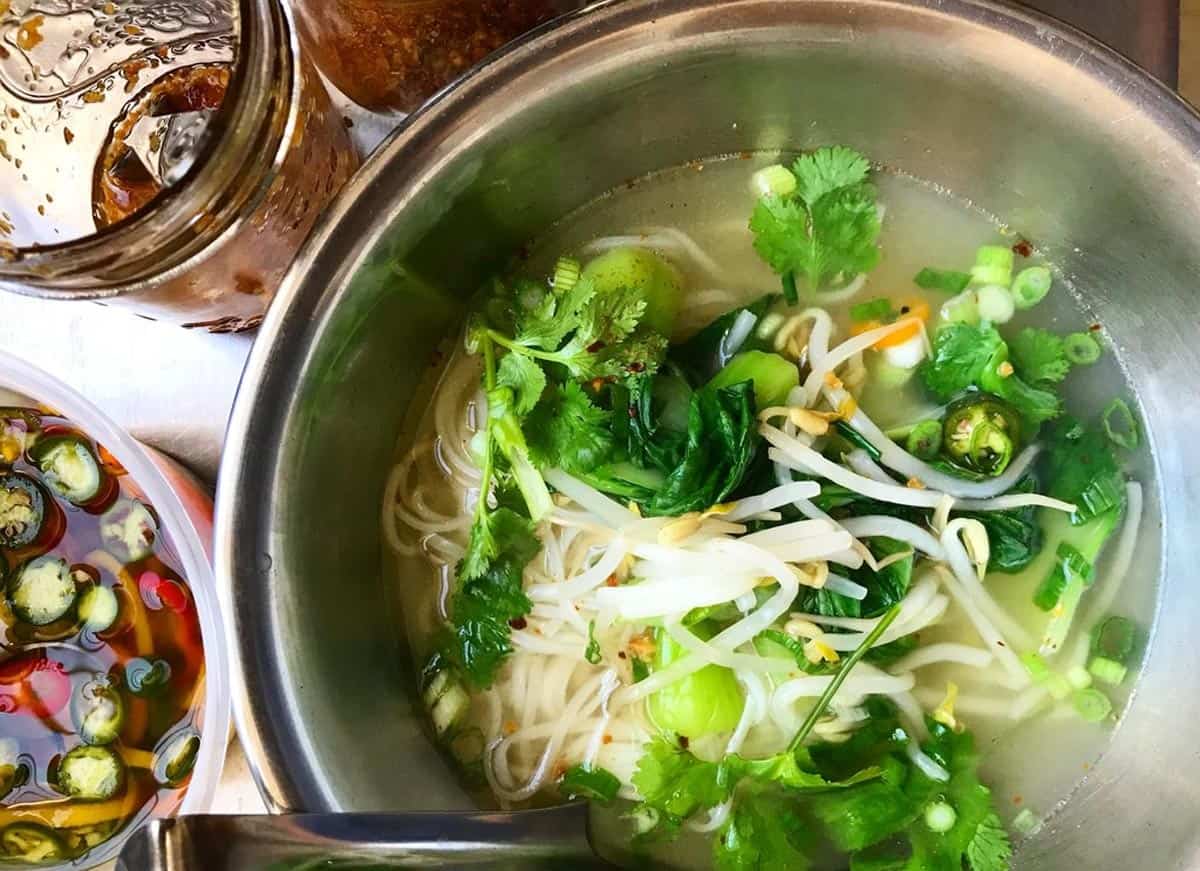 Counted among the most popular Thai dishes, guay teow (noodle soup) can be found almost everywhere. It has plenty of combinations: it can be made with chicken, pork, or beef as well as either rice noodles or egg noodles. The dish is best topped with a selection of condiments including, sugar, dried chili peppers, lime juice, and fish sauce. It is mouthwatering as a late-night snack.
---
Panang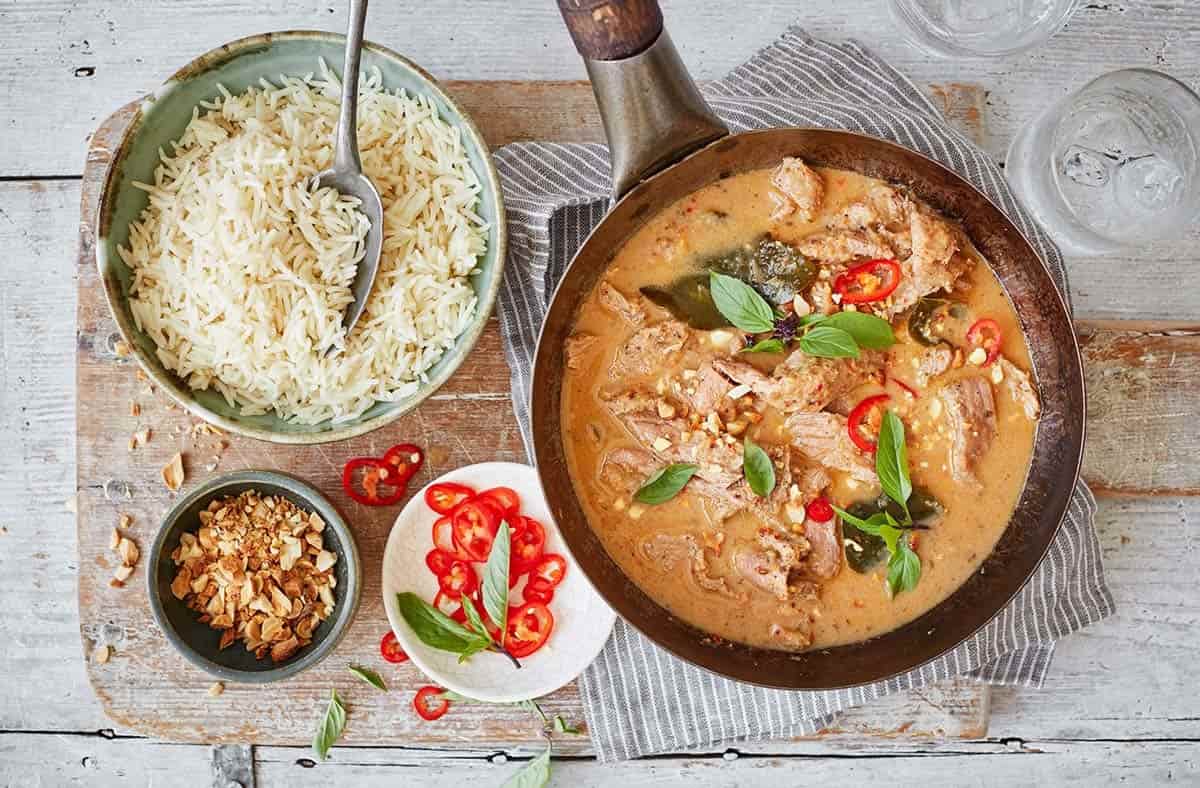 Panang curry, also known as Thai curry, is a bit milder than other curry types in Thailand. That's why it is a popular dish amongst tourists who prefer going for less spicy tastes. Panang curry typically is served with shrimp, but vegetarian options are available as well.
---
Pad See Ew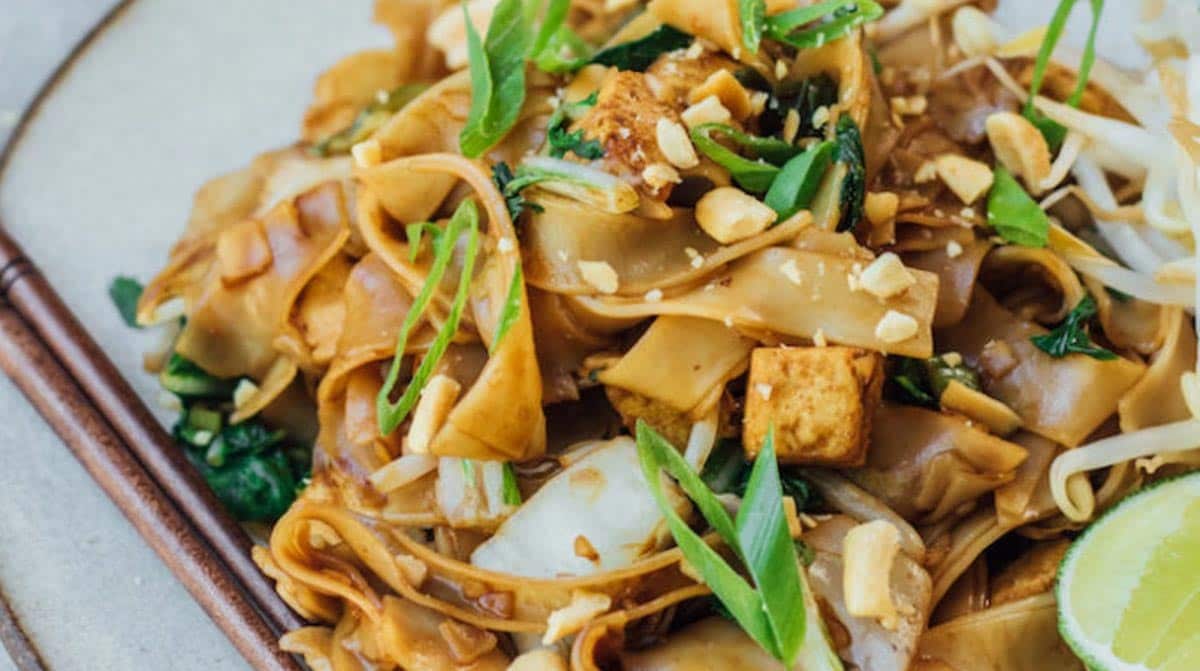 This "thick noodle dish" consists of wide rice noodles stir-fried in thick dark soy sauce with chicken, pork, or beef. Chinese broccoli or cabbage are also available for vegetarians. Just like panang, pad see ew remains a safe choice in terms of spice level. It is an excellent option for those who can't handle spicier Thai dishes. For a variation in taste, you can add dried chili flakes, vinegar, or both.
---
Urbansurf is a mobile social network bringing people sharing the same interests, hobbies, passion together in various activities and makes you social. You can download the application on Apple Store or Google Play.

[:]